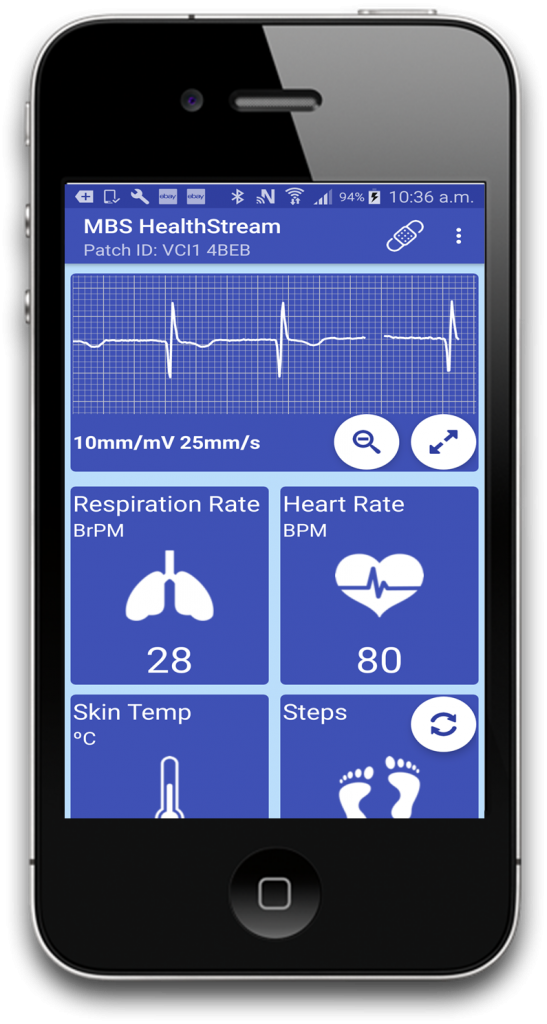 MBS HealthStream mobile solutions are well suited for clinical settings where it can be used by providers to improve the quality of patient care and to increase access to healthcare while reducing costs.
MediBioSense partners with Vital Connect utilizing their HealthPatch MD and VitalPatch biosensor to revolutionize the way health is measured and tracked, and to transform the landscape of treatment delivery.
The HealthPatch MD and VitalPatch have received FDA clearance for sale in the US and regulatory approval (CE Mark) for distribution in the EU.
MBS HealthStream meets the needs of three broad healthcare categories:
     Remote Monitoring
     Clinical Environments
     Health and Wellness
Features
MBS HealthStream coupled with HealthPatch MD/Vital Patch detects the following vital signs and biometric measurements –
Single-Lead ECG
Heart Rate
Heart Rate Variability
Respiratory Rate
Skin Temperature
Body Posture including Fall Detection/Severity
Steps
Specifications
Mobile Software Requirements
iOS 6.1 or later
Android 4.0.3 upwards
Mobile Hardware Requirements 
Apple devices supporting iOS 6.1 and above
Android devices supporting 4.0.3 and above
Your mobile device must support Bluetooth 4.0
Please contact us for full solution details including secure cloud and web interface