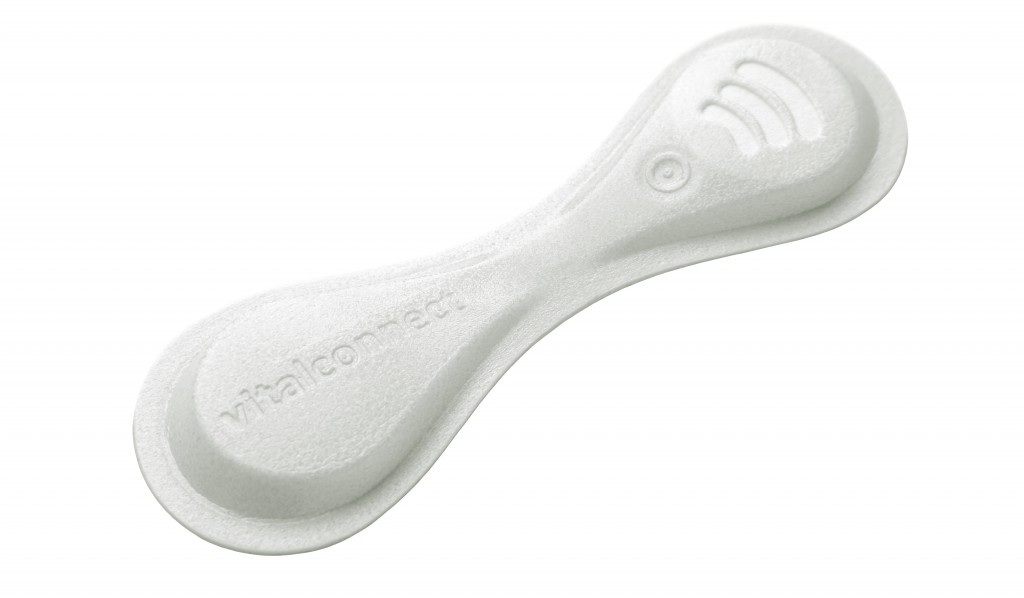 VitalPatch® is a cutting edge wearable biosensor.
MediBioSense utilises this technology in MBS HealthStream and client bespoke mobile applications and can supply the disposable patches direct.
The VitalPatch® has received FDA clearance for sale in the US and regulatory approval (CE Mark) for distribution in EU.
The VitalPatch® biosensor includes a single use, disposable patch.  The VitalPatch® has the same accurate vital signs and biometric measurements as HealthPatch® MD.
Features
VitalPatch® detects the following vital signs and biometric measurements –
Single-Lead ECG
Heart Rate
Heart Rate Variability
Respiratory Rate
Skin Temperature
Body Posture including Fall Detection/Severity
Steps
Specifications
Sensor
ECG electrodes to detect heart rate
3-axis MEMS accelerometer to detect motion
Thermistor to detect skin temperature
Adhesive
Gentle Grade: silicone adhesive, low skin stress during removal, recommended for low activity, low perspiration levels & low humidity levels, may be reapplied to dry skin
Active Grade: hydrocolloid adhesive, recommended for moderate to high activity, moderate perspiration & moderate humidity levels, single use adhesive
Form Factor
11 g Adhesive Patch with integrated Sensor Module
115 x 36 x 8 mm
Battery
Disposable zinc air battery
Battery life of 3 days with ECG and 4 days without ECG
Fully disposable/recyclable
Environment
VitalPatch® is particulate & water resistant (IP24, IP27)
Operating Temperature: 10-40 deg C
Storage Temperature: 0-40 deg C