MBS HealthStream
Utilising Cutting-Edge Wearable Technology - The Future Of Digital Healthcare Is Here Today
MEDICAL APPLICATIONS
Remote Monitoring

Clinical Environments

Health and Wellness
USA & EU CLEARANCE
The wearable patch is a Class IIa medical device and has received FDA clearance for sale in the US and regulatory approval (CE Mark) for distribution in the EU.
SPECIFICATIONS
Mobile Software Requirements:
Mobile Hardware Requirements:
Android 5.0.1 upwards

Bluetooth 4.0
REMOTE MONITORING*
In the largest randomized trial in the world of remote monitoring technologies involving 6191 patients from the UK results found –
45% reduction in mortality rates

20% reduction in emergency admissions

15% reduction in A&E visits

14% reduction in elective admissions

14% reduction in bed days

8% reduction in tariff costs
* Non-HealthStream specific
GLOBAL CLIENTS
Leading US hospitals

NHS UK

Global Pharma companies

US Government Departments

Humanitarian Agencies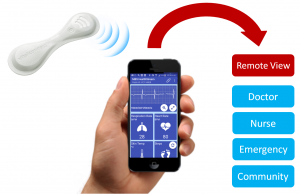 MBS HealthStream is suited for clinical settings where it can be used by providers to improve the quality of patient care and to increase access to healthcare while reducing costs.
Innovation: The solution is a highly innovative and completely wireless to monitor the patient continuously inside and out of hospital.  The World's first fully-disposable, single use vital signs biosensor allows improved clinical workflow, patient compliance, and remote monitoring logistics.
The wearable biosensor is a self-adhesive which sticks to the chest and tracks Heart Rate, Respiration Rate, ECG, temperature, and movement for 5 days+ thanks to an integrated battery. Data is sent in real-time via Bluetooth to mobile and cloud for remote monitoring and analysis.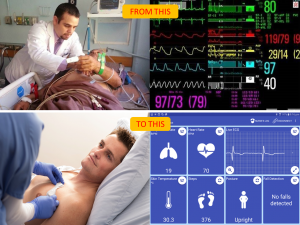 Futuristic: Future healthcare monitoring and clinical decision support will be more on predictive data analysis and interpretation of meaningful clinical decision support tools.  HealthStream is built on robust scalable platform to support current and future needs and has the potential to bring huge benefits to staff from increased productivity, ease of care, patient wellbeing, proactive remote monitoring and preventative healthcare to name some of the benefits.
With this solution, patients can be easily remotely monitored by hospitals, doctors or nurses. MBS HealthStream detects the following vital signs and biometric measurements, as well as blood pressure and oxygen saturation when using 3rd party devices: