MEDICAL APPLICATION
Remote Monitoring

Clinical Environments

Health and Wellness
USA & EU CLEARANCE
The wearable patch is Class IIa medical devices and have received FDA clearance for sale in the US and regulatory approval (CE Mark) for distribution in the EU.
SPECIFICATIONS:
Mobile Hardware Requirements:
Android 7.0 upwards

Bluetooth 4.0
GLOBAL CLIENTS
Leading US hospitals

NHS UK

Global Pharma companies

US Government Departments

Humanitarian Agencies

Clinical study organisations
Cutting edge medically approved wearable technology
The future of ECG remote monitoring is here today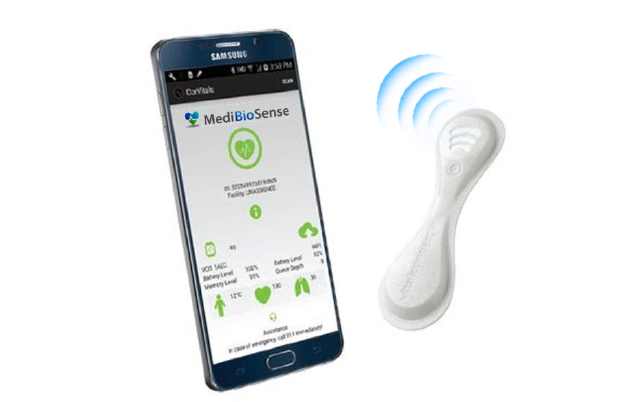 Innovation:  Our cutting edge wearable biosensor patch is self-adhesive sticking to the chest and provides high quality measurements of several physiological vital signs but for ECG reporting it focuses on providing near flawless and wireless ECG signal continuously for up to 7 days. This signal is delivered in real-time to our servers where it is analysed by our medical certified analytics engine.
The small, discrete patch eliminates the need for chest straps, wrist bands, wires and recorders to be worn by the patient. It is easy to use and comfortable at home or on the go.
The Future is here today: No other device and solution can match our patch for real-time continuous ECG monitoring and accurate reporting.  Similar devices are much bulkier and offer only retrospective ECG analysis after the device is mailed back to provider and the data is downloaded. This typically can take up to 30 days.  With ECG reporting, cardiac events can be reported with instant cardiac reports. We also allow the option to prescribing physician to have full access to analytics dashboard to enable their own reporting and checks.