Mobile Cardiac Monitoring
MEDICAL APPLICATION
Remote Monitoring

Clinical Environments

Health and Wellness
USA & EU CLEARANCE
The wearable patch is Class IIa medical devices and have received FDA clearance for sale in the US and regulatory approval (CE Mark) for distribution in the EU.
SPECIFICATIONS:
Mobile Hardware Requirements:
Android 8.0 upwards

Bluetooth 4.0
GLOBAL CLIENTS
Leading US hospitals

NHS UK

Global Pharma companies

US Government Departments

Humanitarian Agencies

Clinical study organisations
Cutting edge medically approved wearable technology
The future of ECG remote monitoring is here today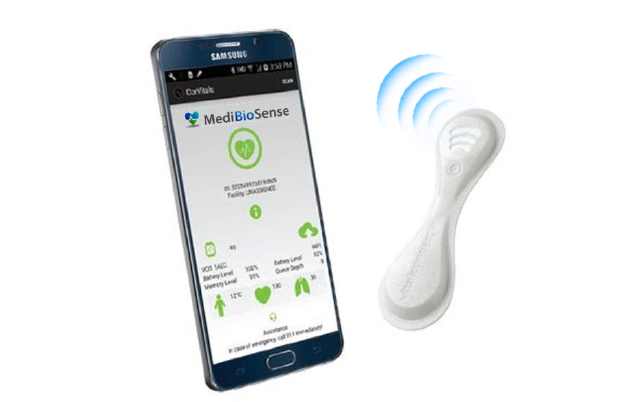 MCM (Mobile Cardiac Monitoring) replaces the traditional cumbersome Holter monitor with an unobtrusive wearable patch. Instead of waiting weeks for ECG results cardiac events can be monitored and responded to in real-time and full analytics provided immediately after the patient monitoring period.

Innovation: Our cutting-edge wearable biosensor VitalPatch (FDA/CE approved) is a health monitoring device that adheres to the patient's chest. The VitalPatch helps to provide a more complete picture of a patient's condition by monitoring and detecting 21 unique arrhythmias and capturing four vital signs. The Mobile Cardiac Monitoring solution provides an accurate wireless ECG signal continuously for up to 7 days. This signal is delivered in real-time to our servers where our dedicated AI-based ECG analysis solution enables physicians to view the patient's status anytime; a unique capability for an extended Holter monitor.

The Future is here today: The VitalPatch and Mobile Cardiac Monitoring solution is unrivalled for real-time continuous ECG monitoring and accurate reporting.  Other devices are much bulkier and offer only retrospective ECG analysis after the device is mailed back to the provider, this can typically take up to 30 days.  With MCM there is no waiting, no need to send the device back for the data to be downloaded – just instant results and analysis.