HeraBeat - Fetal Heart Monitor 
HeraBEAT™ is a medically accurate, scientifically optimized, smartphone-based fetal heartbeat monitor for home use.  It is a certified CE Class IIa medical device.
HeraBEAT™ empowers expectant mothers to monitor their fetus' heartbeat anytime, anywhere. Enabling seamless data sharing of fetus' vital signs with medical professionals*, parents can rest assure their fetus is receiving the needed medical attention while they take their time to focus on their health and bond with their unborn child.
Designed from the ground up to be used by the expecting mother, HeraBEAT™ integrates state of the art technology and professional accuracy with a simple straightforward user interface and a distinctive design into a safe, reliable and affordable solution.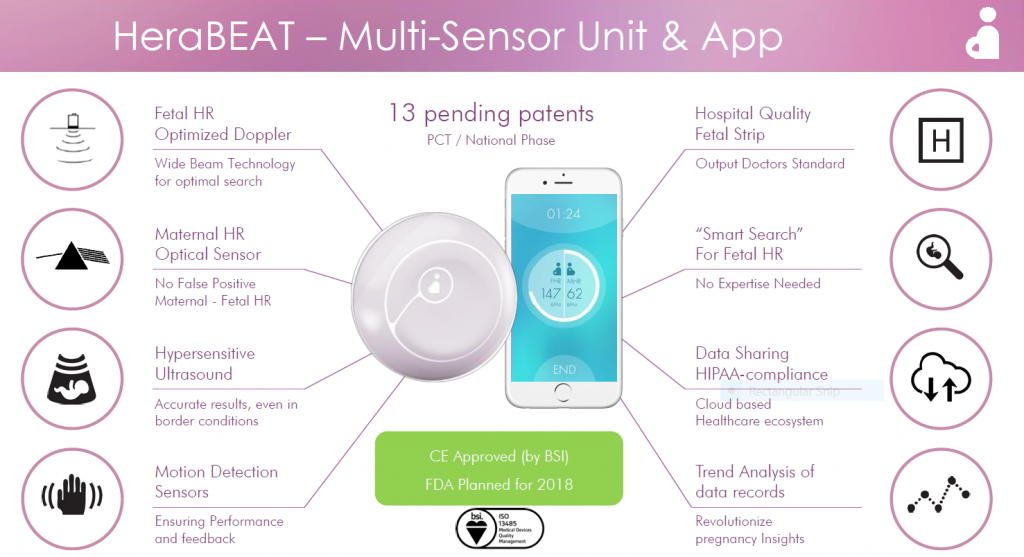 Doctor Testimonials:
Dr. Noa Glick Fishman (Obstetrician) Click Here
Dr. Rina Hajaj (Obstetrician) Click Here
*MediBiosense are licensed developers and reseller of the HeraBeat Device.